Friday afternoon the Iowa House adjourned for the year, closing the books on the 2015 legislative session.
I'd like to thank all of you who took the time to send me emails, called my office and sent letters expressing your support or opposition to pieces of legislation.  I am always appreciative of your feedback and thoughts.
During the interim, please feel free to contact me at kraig.paulsen@legis.iowa.govor call my office at (515) 281-3521.  Also visit www.iowahouserepublicans.com for constant updates and articles.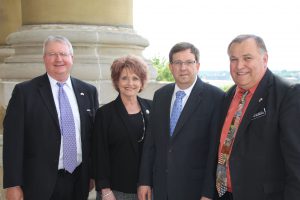 Pictured here on the last day of the 2015 session with the three House Republican legislators who were sworn in with me in 2002:  Rep. Tom Sands (Wapello), House Majority Leader Linda Upmeyer (Clear Lake), me, and Rep. Ralph Watts (Adel). 
Below is the speech I gave to close out the session:
I know this took a little bit longer than all of us wanted, but we should be proud that rather than rushing to an end, we did quality work on behalf of Iowans.
I'd like to start by quickly thanking you, the members of the eighty-sixth general assembly for your hard work and willingness to come together to do what's best for Iowans.  It is truly an honor to serve as your speaker.
Thanks to my page Aaron, you've been a tremendous help in our office this year.
To the House Republicans – you have shown willingness to do what is right and responsible for Iowa taxpayers, even in the face of great pressure to expand government just to hurry the process.  It's an honor to be a part of your caucus.
To my wife, Cathy, and our children, thank you for your constant support and understanding.
I want to thank our great leadership team that I am honored to work with – Reps. Fry, Hagenow, Hein, Klein, Rogers, and – I appreciate your leadership and dedication to the Republican caucus.   To Speaker Pro Tem Matt Windschitl, your work on behalf of this chamber is significant.
To the Majority Leader, Linda Upmeyer, thank you for your unwavering commitment to our caucus and Iowans. I value your friendship and appreciate your tireless work.
To Leader Smith and the minority party, thank you for your efforts this year.
To our leadership staff:  Louis, Terri, Josie, Angie, and Tony.  And, in my opinion, the best caucus staff in the building – the House Republican Caucus staff: Jeff, Lew, Brad, Jason, Kristi, Carrie, Colin, Amanda, Dane and Brittany – you are not thanked enough for the work that you do and the service you provide.  We are very appreciative.
Chief Clerk Boal, thank you to you and your staff, the work you all do to make this chamber operate efficiently.   And LSA for all of your hard work, much of what you do is not seen but it does not go unnoticed.
And finally, thanks to Governor Terry Branstad and Lieutenant Governor Kim Reynolds and their team for their willingness to once again work together to move Iowa forward.
For the fifth year in a row, the Iowa Legislature has made a serious commitment to Iowans to not spend more than the state takes in.  This is an incredibly significant accomplishment.
Why do House Republicans fight so hard to maintain our budget principles?  Because Iowans work so hard to earn that money and we have a responsibility to protect the taxpayers and families who go to work, play by the rules and pay their taxes.  Those Iowans expect to be treated with respect.  That is why House Republicans will stand up and protect their money every day.  Every dollar the Legislature spends that it doesn't have puts the financial security of those taxpayers and families in jeopardy.  Responsible budgeting ensures Iowa's most vulnerable citizens have resources they can depend on next year and the year after.  Keeping spending aligned with revenues will be our first priority of the 2016 session.
We are nearing a tipping point in the budget process where Medicaid is consuming resources that in the past have gone to education.  The work we did this year on the cost containment measures will be vital to the ongoing stability of our state's resources.  But the challenge does not end there.
We must continue to find other ways to effectively manage state dollars.  We'll be back next year to continue our work on giving school districts more flexibility and also on making the case that reform to Iowa's collective bargaining laws protects Iowans' money and helps critical dollars actually reach our kids.
This session we took a bold stand with Iowa landowners to fiercely protect their property.
And lastly, we added some of the most substantial pro-life language to Iowa law in over a decade.
Regrettably, this General Assembly could not come together to advance second amendment rights for Iowans and our law enforcement community.  It is something we will continue to push for next session.
This is no small checklist.  We took Iowans' priorities and turned them into realities by working together and finding common ground.  We gave them results, and we'll be back next year to fight for them again.
Don't forget to visit the House Republicans' homepage for new updates.  www.iowahouserepublicans.com
You can also find us on twitter @iahousegop (https://twitter.com/iahousegop)