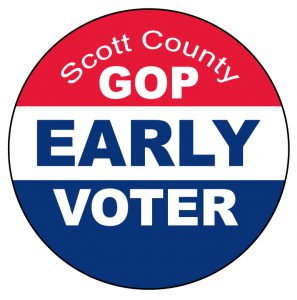 WHY SHOULD YOU VOTE EARLY?
It really helps our candidates if you vote early, then they can focus on other voters and you won't get any more of those phone calls or people knocking at your door! What if you are sick election day, if you have car trouble, if the weather is bad, or if your kids are sick? Those and many other reasons could prohibit you from getting to the polls. Vote early to ensure that your vote is counted!! YOUR VOTE IS SECURE WHEN YOU VOTE EARLY.
You can vote early one of 2 ways
By mail if you request an Absentee Ballot Request form.
Or in person at any of the Early Voting Satellite locations. All ballots are available at each of the Satellite locations.
TO VOTE BY MAIL:
CLICK HERE to print the attached absentee ballot request form.
All you have to do is print, complete and mail as directed on the bottom of the form. You will receive your ballot by mail, complete it and return in the POSTAGE PAID envelope and you are done! You don't even have to pay the postage. And don't worry, your vote is secure. You can even track your ballot on line through the Iowa Secretary of State's office; the link is on the bottom of the attached form.  Ballots are secure and we provide a group of Republican observers to monitor the process of opening them to ensure the integrity of the process.
TO VOTE AT A SATELITE LOCATION
CLICK HERE for a list of locations,  dates and times that Satellite Voting locations are open. You do NOT have to live in the precinct where the satellite location is located, ALL ballots will be available at ALL locations.
For more information regarding early voting visit the Scott County Auditor's website at: http://www.scottcountyiowa.com/auditor/early-voting