Joni Ernst wins Iowa U.S. Senate Seat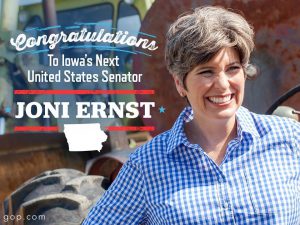 IMPORTANT NEWS AND UPDATES
THANK YOU!
A BIG THANK YOU TO ALL OF VOLUNTEERS WHO CONTIRUBTED TO OUR SUCCESS LAST WEEK!
Whether you made calls, brought in snacks, put up signs, took down signs, door knocked, staffed the front office, walked in parades, poll watched, helped with events, addressed thousands of mailings or however you contributed, we appreciate your service and dedication to our candidates and the Scott County     Republican Party. We could not do this without you! Thanks also to the voters who got to the polls and spoke so loudly!
TIME FOR OUR MOVE AGAIN AND WE NEED YOUR HELP!
It is time again for us to move! Thanks to the generosity of Ron May, we will     again be moving back to our off election cycle office in Paul Revere Square at no charge to us.  Our move date is Friday, November 21 beginning at 9 am at the North Park Mall office. Thanks also to the generosity of Tom Roederer of Mayflower moving and storage who donates the move and storage fees. We will have movers who will move the heavy stuff, but we need lots of hands to help with the light moving. There is free pizza lunch in it for those who help, what could be better! If you can spare and hour or 2 please come over to help, we sure would appreciate it, or if you have students who need service hours and can spare a few hours from school to fulfill them, that would e great also.
HAPPY VETERAN'S DAY!
Also, on this Veteran's Day we want to thank those who have served and those who are currently serving to protect and preserve our freedoms. We so greatly     appreciate your service to our country!
OFFICE HOURS   
We are back to our Wednesday 1-4 office hours. Please also understand that during the move process our phone system will be in transition from November 21 until the next week. If you need to contact us, during this time of transition, please email us at republicanssc@gmail.com, or through our Facebook page.
REAGAN DINNER RECORD ATTENDANCE
Thanks also to those who helped and attended our Reagan dinner with Senator Marco Rubio. We had a record attendance of 630 people. It was a great night of hearing from all of our Republican candidates.
Thanks you again!
Judy
Hello and welcome to our  website. We are committed to working to elect our Republican candidates up and down the ticket and can always use more and new volunteers.  If you are interested in helping, please contact us.  We have a great group of dedicated activists who volunteer in many different ways and we can find a volunteer opportunity that fits your interest and time commitment.
Our headquarters is located at 311 W. Kimberly, in Davenport across from North Park Mall, (actually on Main St and across from Burger King).  Our office hours are Monday-Thursday 10-8, Friday 10-4, Saturday 10-4, and Sunday 12-4.  Please feel free to stop by and say hello, we can always use volunteers and we would be happy to get you involved in a variety of ways.  Our mailing address is different than our physical location, it is P.O. Box 534, Bettendorf, IA 52722.  Our phone number is 563-823-5854, our email address is republicanssc@gmail.com.  You can also like us on Facebook at Scott County Republicans, follow us on Twitter and Instagram at @screpublicans, or read our blog at therightsideofiowa.
Thank you for visiting our website,
Judy Davidson, Chair
Scott County Republicans