Hello and welcome to our website!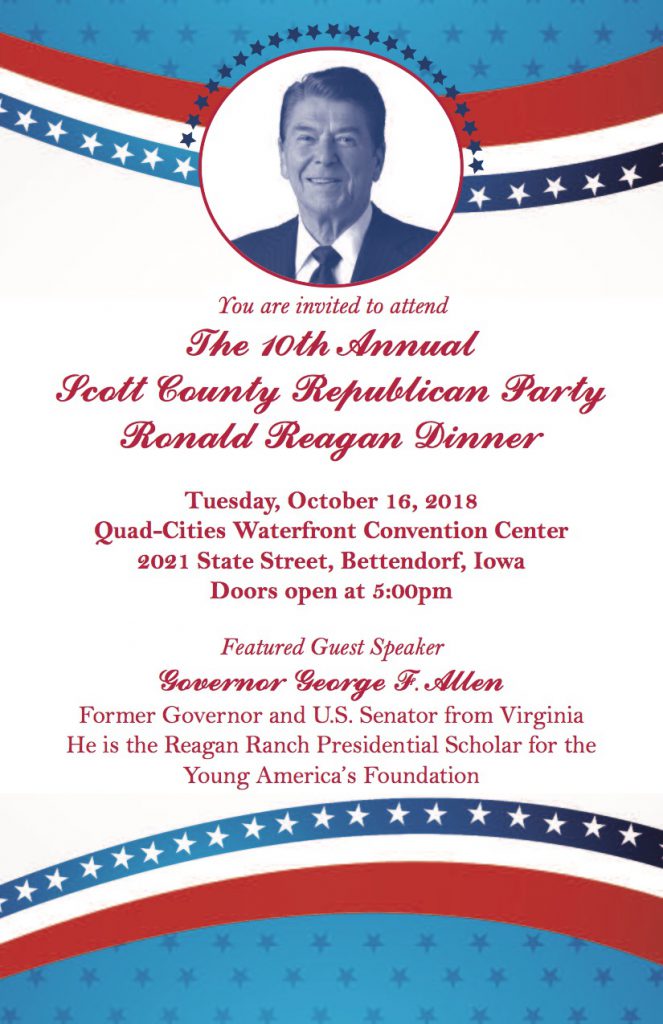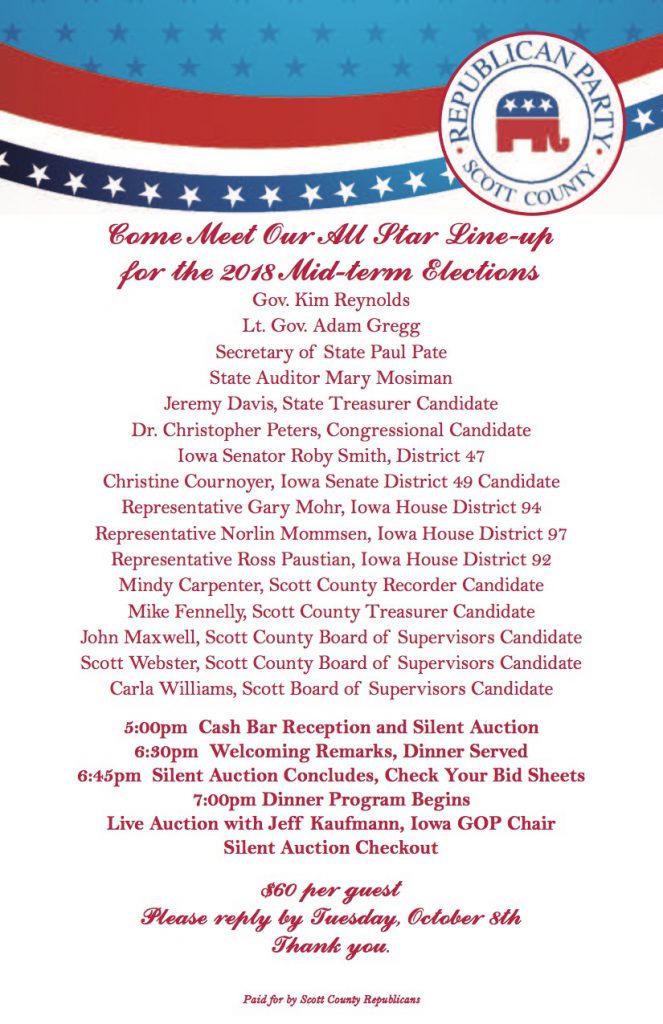 OFFICE HOURS
Our office is located at 3523 Eastern Ave #3 Davenport, IA 52807.  We share the same building as The Camera Corner and Minuteman Press. Office hours are Tuesday 10-Noon, Wednesday 1-4, & Thursday 10-Noon or by appointment (call us at 563-823-5854).
OUR SOCIAL MEDIA
To get the most up to date information on candidate visits and other Republican activities in Scott County, take a look at our Facebook page at scottcountyrepublicans, follow us on Twitter @screpublicans, watch this website (scottcountyrepublicans.org), and read our blog at therightsideofiowa.
ABOUT US
We are a committed group of volunteers who are working to elect Republicans in Scott County, Iowa and throughout the United States. Currently our executive committee consists of a Chair, three Vice Chairs, Secretary, two Finance Co-Chairs, Treasurer, and Immediate Past Chair. Our Central committee is composed of two precinct leaders from each of our 63 precincts in Scott County, who are elected at each biennial caucus and who serve a 2-year term.
Please like us on Facebook at scottcountyrepublicans, follow us on Twitter @screpublicans and follow our blog at therightsideofiowa. Whenever prominent Republicans visit Scott County, you will be kept informed of these visits via our social media outlets.  Also, if you would like to be added to our email list, please email us at republicans@gmail.com with your contact information.  We do not share our email list with anyone, and we will not bombard you with too many emails, but only with information on candidate visits and political activities occurring in Scott County. We do maintain an office staffed by volunteers.  Our office is located in the Paul Revere Square located at the corner of Kimberly and Jersey Ridge Roads, so please stop by and say hello. The physical address is: 3523 Eastern Ave #3 Davenport, IA 52807. We can always use more volunteers and we would be happy to talk with you about getting involved to help us elect Republicans.  Our official office hours are Wed from 1:00-4:00 PM.  If those Wednesday office hours are not convenient, I am happy to meet with anyone at any other time. Just leave me a message at 563-823-5854. Thank You, Linda Greenlee Chair, Scott County Republicans