Hello and welcome to our website,
SAVE THE DATE FOR OUR 8th ANNUAL RONALD REAGAN DINNER!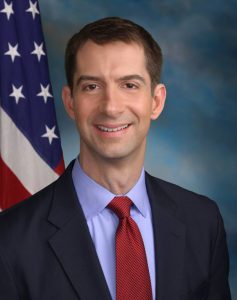 Sen. Tom Cotton
Scott County's 8th Annual Ronald Reagan Dinner. October 11, Waterfront Convention Center.  We are excited to announce that United States Senator from Arkansas, Tom Cotton will be the featured speaker for our 2016 Ronald Reagan dinner!
Special guests include Gov. Branstad, Lt. Gov. Reynolds, U.S. Senator Joni Ernst, IA Auditor May Mosiman, IA SOS Pate, IA GOP Chair, Jeff Kaufmann.
Reservations $50 per person and are available online now by clicking here.
You may also download a printable reservation form by clicking here.
Questions, call 563-823-5854
EARLY VOTE RALLY
WHAT: Early vote rally featuring Iowa's Secretary of State Paul Pate and our local candidates.
WHEN: Thursday, September 29, 7:30 pm
WHERE: Scott County GOP HQ, 5405 Utica Ridge Rd, Suite 200 in the Quad City Bank Building. We are just across from HyVee and next to the Wells Fargo Bank Building.
Refreshments will be served and the event is open to the public.
CENTRAL COMMITTEE MEETING and VP DEBATE WATCH PARTY
The October Central Committee meeting will be October 4 at 6:30PM at American Legion, 702 W. 35th Davenport. 
The debate watch party will begin at 8 :00PM following the meeting.  The event is open to the public.
DO YOU WANT TO MAKE A DIFFERENCE IN THIS ELECTION? WE HAVE A WAY FOR YOU TO DO SO WHICH IS EASY AND FUN!
We need your help us as we begin to get out the vote for November. We are having regular training's at our office for door knocking and using our mobile APP. If you are interested in doing so, please contact Joe Krenzelok at 480-694-4418, or joe@iowagop.org. You may think it is early to start our door knocking efforts, but it really is not when you consider how many voters we need to contact in Scott County.
This process helps ALL of our candidates from the top of the ticket to the bottom of the ticket. Give it a try, it is not hard and we give you all the tools to make a difference in this election.
We have a New Office!
We have a new home! As we have done the last 3 election cycles we are moving to a larger election cycle office. Unfortunately, the space we previously occupied across from North Park Mall is now a Kwik Star. Our new office is in the Quad City Bank & Trust Building on Utica Ridge just off of E.53rd. The address is 5405 Utica Ridge, Suite 200, we are on the second floor.
Our office hours are: Monday, Tuesday, Thursday 12-4 and Wed  12-6
OUR SOCIAL MEDIA
To get the most up to date information on candidate visits and other Republican activities in Scott County take a look at our facebook page at scottcountyrepublicans, follow us on twitter @screpublicans,  watch our website at scottcountyrepublicans.org, and read our blog at therightsideofiowa.
ABOUT US
We are a committed group of volunteers who are working to elect Republicans in Scott County, Iowa and the United States. Our executive committee consists of a Chair, 3 Vice Chairs, Secretary, Finance Chair, Treasurer, Past Chair and Advisor. Our Central committee is composed of 2 precinct leaders from each of our 63 precincts in Scott County, who are elected at each caucus and who serve a 2 year term.
Please like us on facebook at scottcountyrepulicans, follow us on twitter @screpublicans and follow our blog at therightsideofiowa. Soon potential Presidential candidates will be visiting Scott County and you will be kept informed of these visits via our social media outlets. Also, if you would like to be added to our email list, please email us at republicans@gmail.com with all of your contact information. We do not share our email list with anyone, and we will not bombard you with too many emails, but with information on candidate visits and political activities occurring in Scott County.
We do maintain an office staffed by volunteers.  Our office is located in the Quad City Bank & Trust building on 53rd Street in Davenport, so please stop by and say hello. The physical address is: 5405 Utica Ridge, Suite 200, Davenport, 52807. We can always use more volunteers and we would be happy to talk with you about getting involved to help us elect Republicans. Our official office hours are Monday, Tuesday, Thursday 12-4 and Wed  12-6. I am happy to meet with anyone at any other time if someone wants to stop by but the Wednesday time is not convenient.
Thank You,
Judy Davidson
Chair, Scott County Republicans