"If you do not take an interest in the affairs of your government, then you are doomed to live under the rule of fools." — Plato
---
Pints & Politics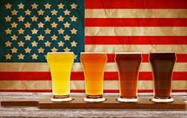 Featured Guest Speakers & Discussion
Kent Paustian, Davenport School Board
and Ken Beck, Chairman, Board of Supervisors

Thursday, February 16, 2023
(Third Thursday each Month)
6:00 – 8:00 pm
Thunder Bay Grille – 6511 N Brady St, Davenport
DRINKS & FOOD AT OWN EXPENSE
Sponsored by Scott County Republicans
RSVP @[email protected]
*** WE RESERVE THE RIGHT TO DENY/REMOVE ANY UNWELCOME OR UNRULY GUESTS NO RECORDING OR VIDEOTAPING ALLOWED ***
Doors will open at 5:30 p.m., program starts at 6 p.m. Limited capacity!
---
---
Scott County Republicans at the Mississippi Valley Fair
The Scott County Republican Party enjoyed many very supportive and engaged visitors at our Mississippi Valley Fair Booth!
---
The Scott County Republican Lincoln Club enjoyed hosting Iowa President of the Senate Jake Chapman as a recent luncheon speaker.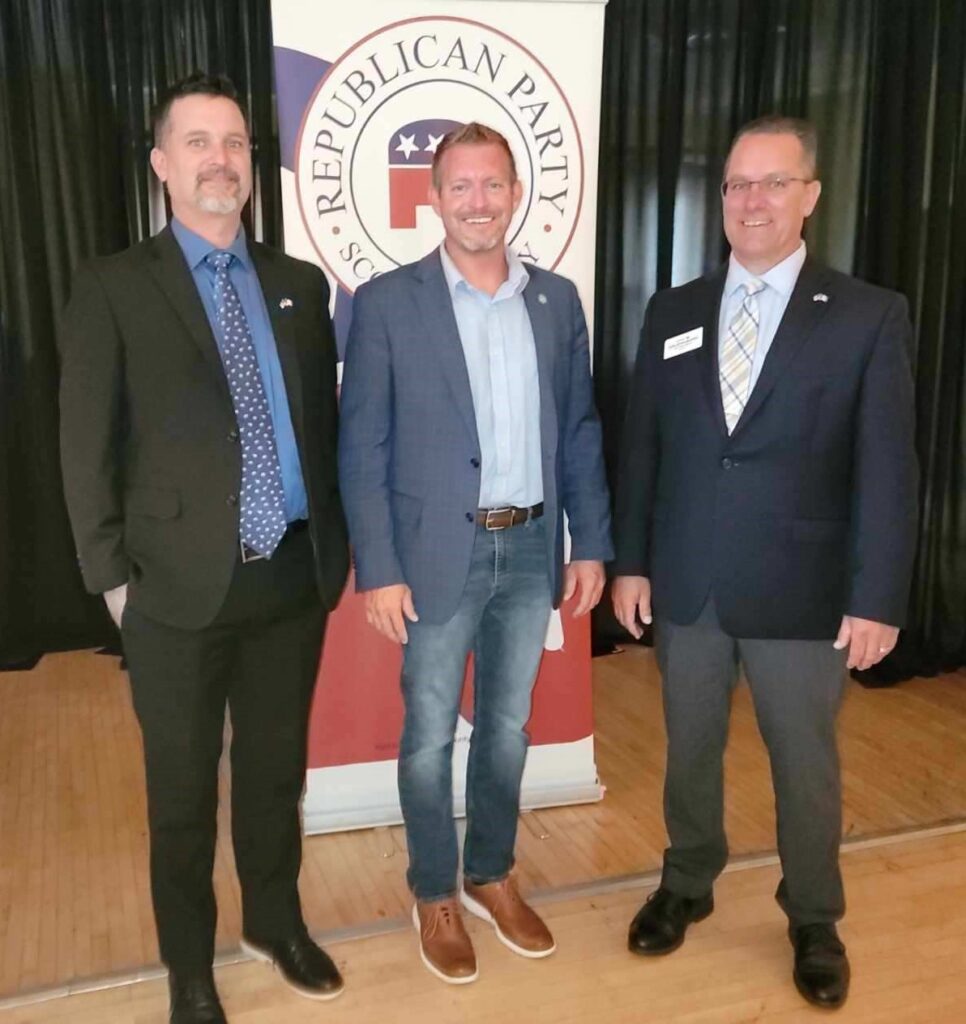 We would love to have you be a part of our Lincoln Club!
---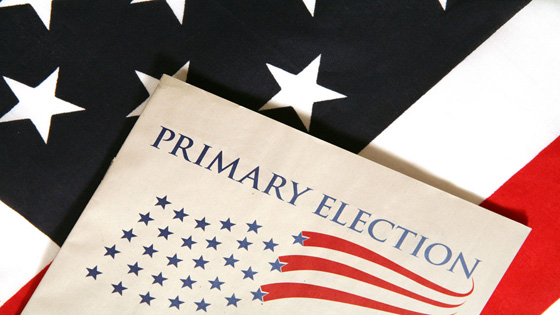 Congratulations to Those Who Won Their Primary Elections
Thank you to all the candidates who stepped up to run. You are all winners and an important part of the Scott County Republican Party!
We are excited that the Scott County Republicans beat the Democrats in turnout, thanks to all of you!
This Primary Election was the second largest voter turnout statewide in Iowa history. It is the largest Primary Election turnout in a nonpresidential election year! The momentum is building for victory in November!
---
Republican Excitement at Area Parades
The parades all summer have been phenomenal! We have had a large number of candidates, their supporters and our volunteers join us. The spectators have been made up of large crowds and their support during the parades has been very inspiring! Voters are ready for a change!!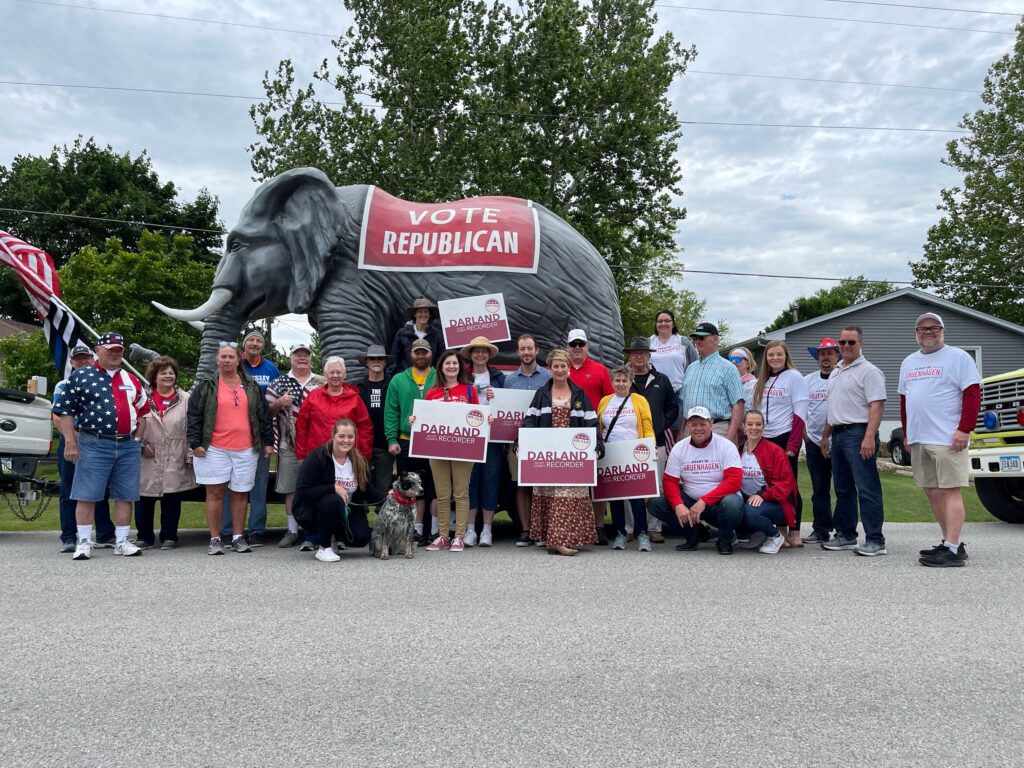 The enthusiasm gap between the two major political parties was on full display at the Blue Grass parade. Scott County Republicans had a strong turnout and enthusiastic support while the Scott County Democrats had a dismal contingent at the parade. When your party's leader is polling in the low 30's and is now being referred to as a worse president than Jimmy Carter, there really isn't much to get excited about.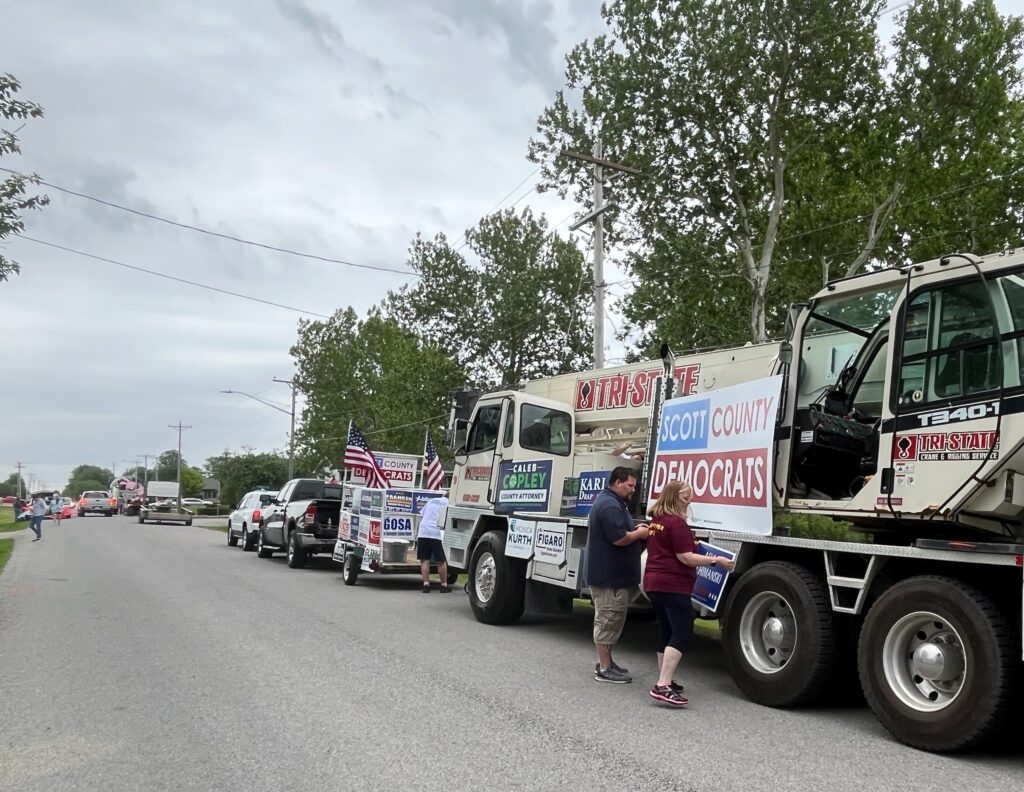 ---
Off & running! Michele Darland files as a Republican candidate for Scott County Recorder!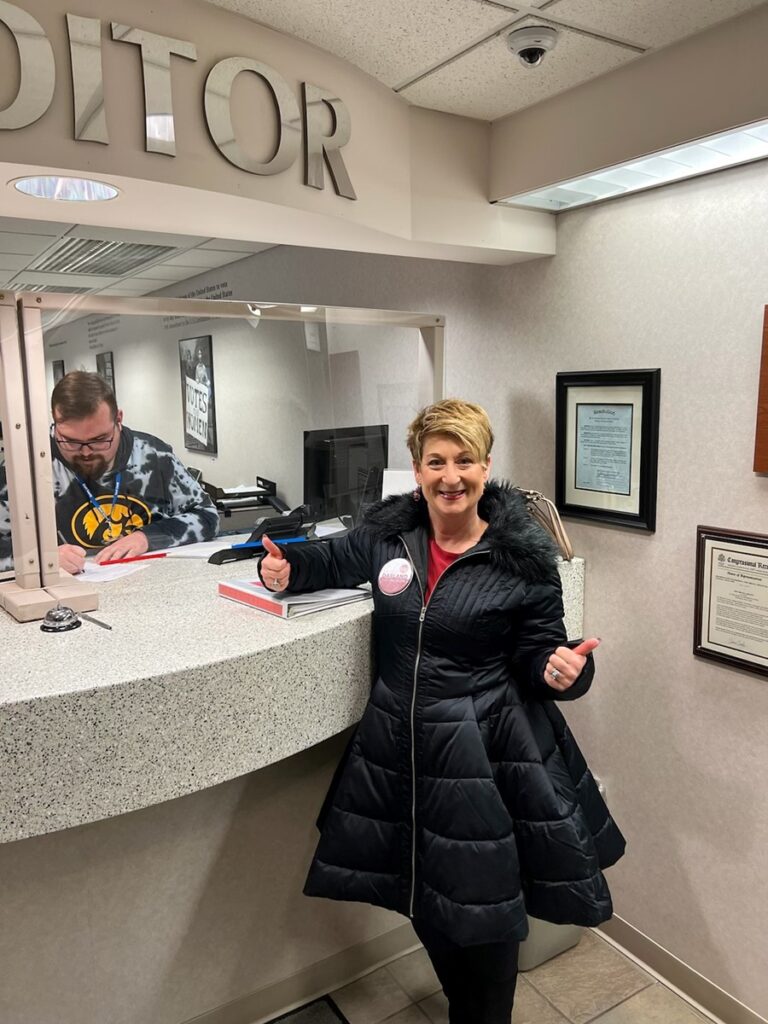 ---
It's Official! Roby Smith is Candidate for Iowa State Treasurer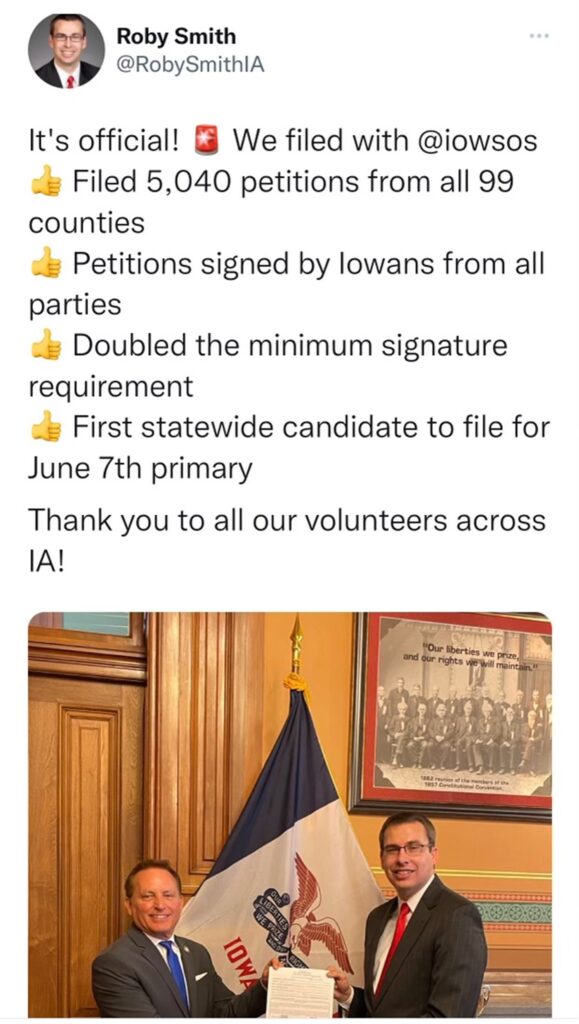 ---
Kerri Tompkins to Run for Scott County Auditor
Davenport, IA: Today, Kerri Tompkins announced her intention to continue serving as Scott County Auditor via the 11/8/2022 election. Kerri was sworn in on June 1, 2021.
Tompkins served as the 8th Ward Alderman for the City of Davenport for three terms, 2014-2019. During that time, she was Vice Chair of Public Safety, Chair of Finance and Mayor Pro Tem.
In addition, Tompkins has over twenty years of management experience in both the non-profit and for-profit sectors. She has demonstrated the ability to work professionally across diverse stakeholder groups to achieve successful outcomes.
Tompkins shared, "I ran a successful countywide election this past November and I am hopeful to continue in this role."
Kerri, along with her husband, Andrew, live in Davenport with their two boys, Noah and Gage.
If you would like to contact Kerri, please reach her at [email protected] or via her FaceBook page, Tompkins for Auditor.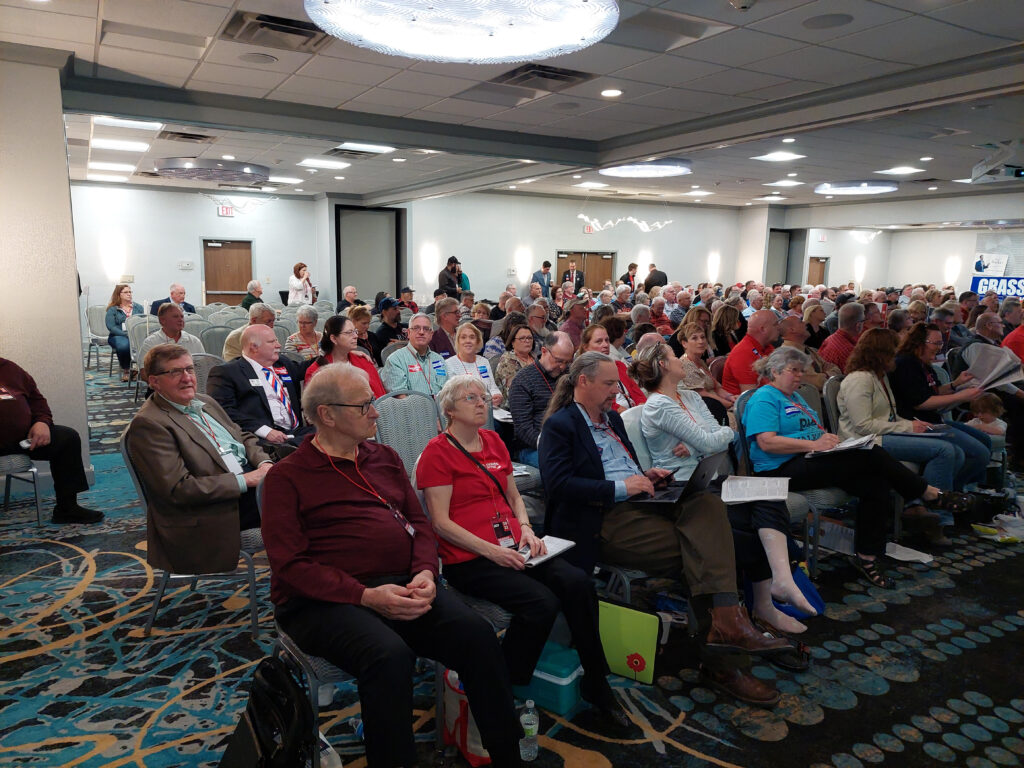 Thank you to all the Scott County Republicans who participated in the Republican District Convention! Republicans making a difference in our communities!
---
Senator Chuck Grassley Addresses Lincoln Club Members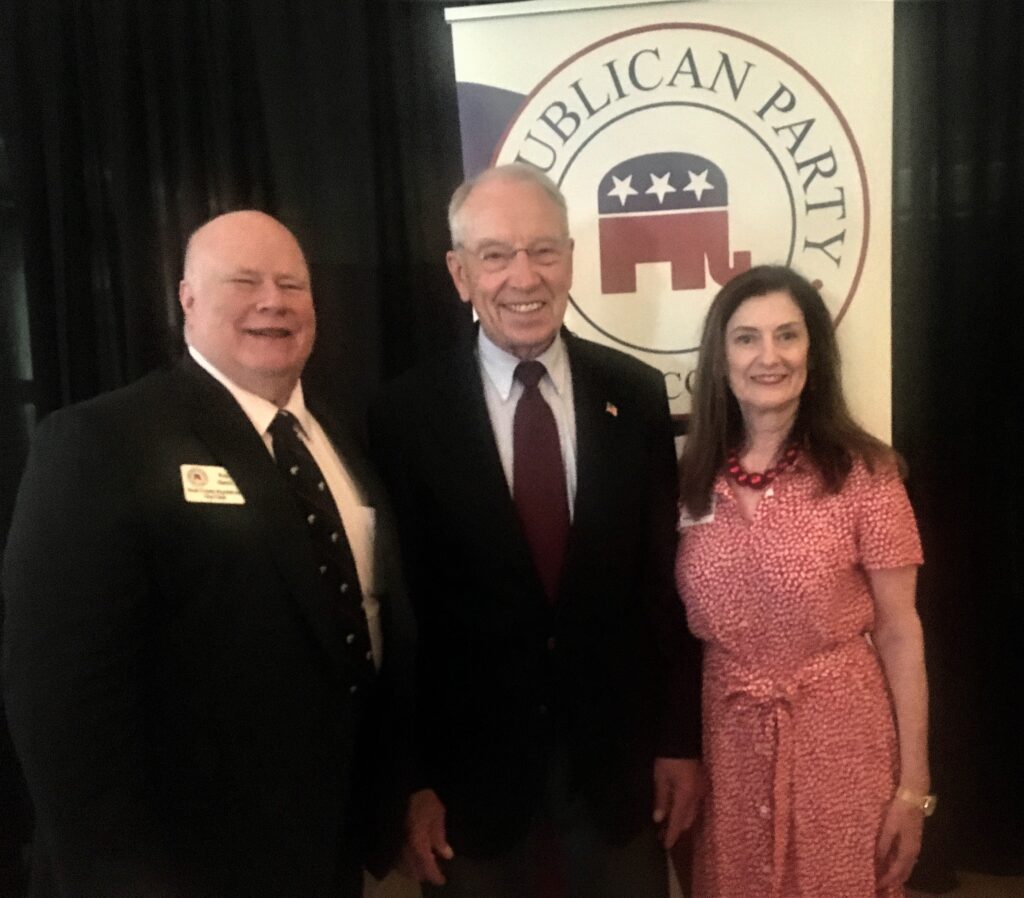 Senator Chuck Grassley spoke to a large audience of Lincoln Club members during a luncheon event this week. If you would like to join us at our Lincoln Club luncheons, please consider joining our Lincoln Club by clicking here for details.
---
Fun at the Fair
The Scott County Republican Party's Mississippi Valley Fair Booth was the place to be! Democrats were missing at the fair… Scott County Republican's are proud to support our fantastic county fair!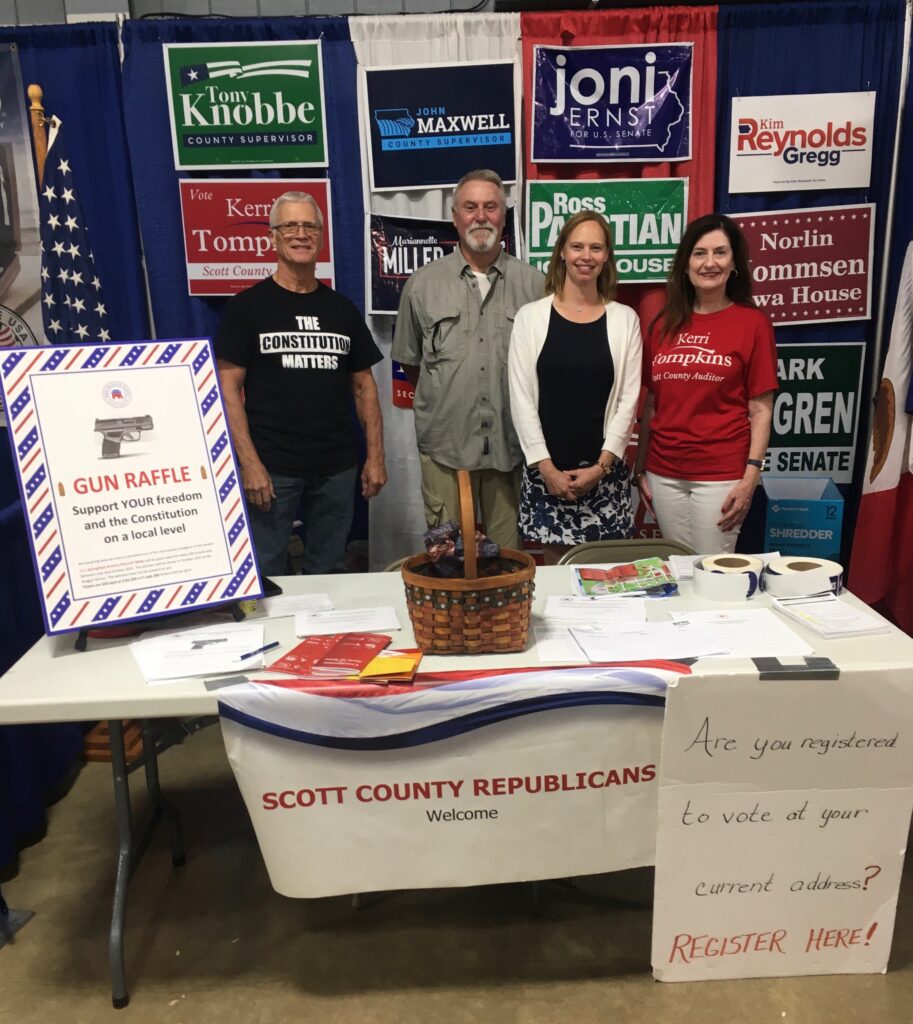 Pictured staffing the Scott County Republican booth are: Vince Barrett, Scott County Central Committee member; Dennis Heinrich, volunteer; Kerri Tompkins, Scott County Auditor and Jeanita McNulty, Scott County Republican Chair."
There are important dates coming up in 2022 for the Scott County Republicans. Please mark your calendars for the Caucus on Monday, February 7, the County Convention on Saturday, March 12, the District Convention on Saturday, April 23, and the State Convention on Saturday, June 11. All locations are to be determined and all events can be found on the Scott County Republicans calendar.
---
Scott County Republicans Well Received at Bettendorf July 3rd Parade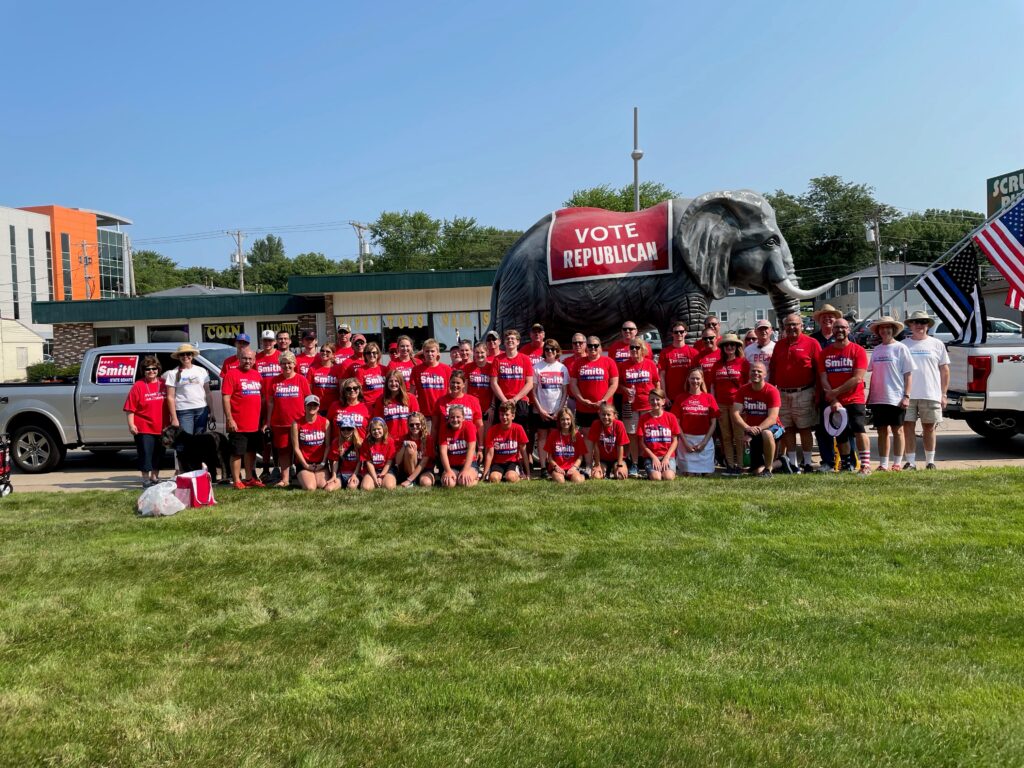 ---
Lincoln Club Luncheon featured Secretary Paul Pate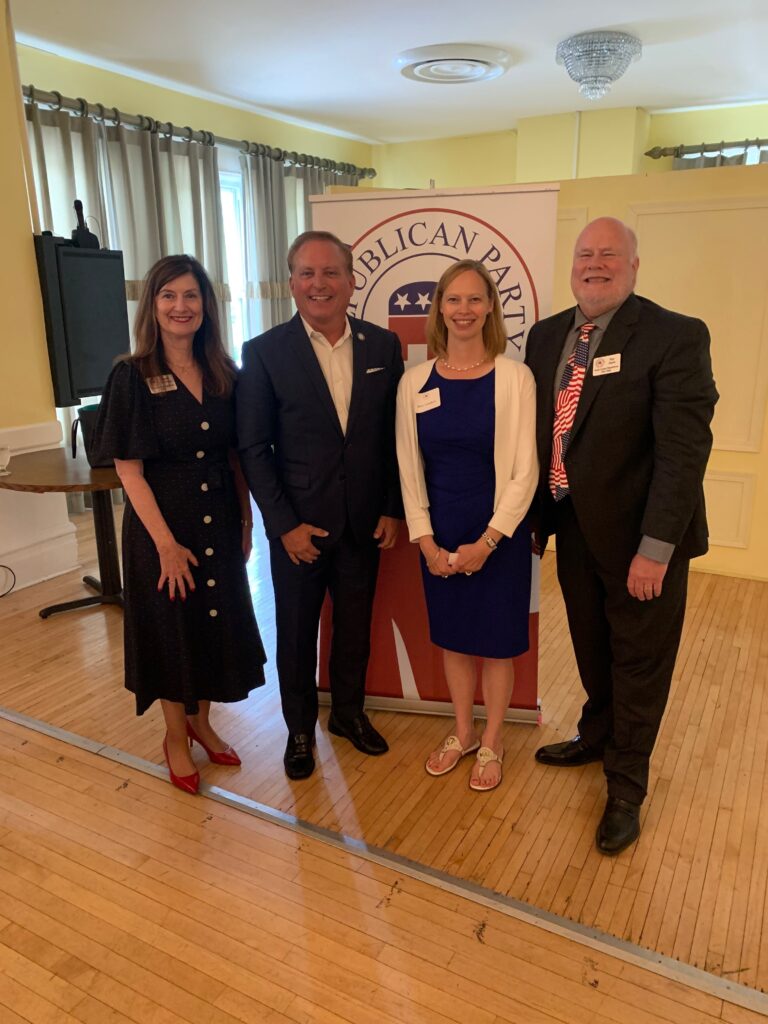 Scott County Republicans hosted Secretary Paul Pate at the Lincoln Club luncheon this week. Pictured from left to right: Scott County Republicans Chair – Jeanita McNulty, Secretary of State – Paul Pate, Scott County Auditor – Kerri Tompkins, Scott County Republicans Vice Chair – Ray Harre.
---